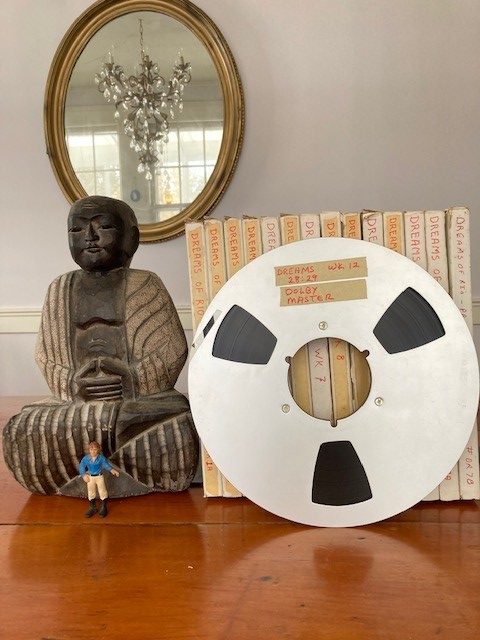 Here are the last of our Jack Flanders Master audio tapes.
As you can see, there are 14 reels of "Dreams of Rio" (Weeks 1-13, plus promos). These are the original Masters. They are ¼ inch, 2 track tapes on 10.5" metal reels. They'll play on a standard 2-track tape machine, they run at 15 ips (inches-per-second).

The Story
Hot voodoo beats, lush jungle sounds, tropical downpours, an enigmatic European Professor, an alluring female anthropologist, and our old friends, Jack Flanders and Mojo Sam. This series was recorded in the late 80s, back when Brazil was a very friendly, fun place to wander around and record almost anywhere … if you could make it there.
Fulton & Clark recorded a lot of sounds in Rio de Janeiro, in the Samba Clubs, in taxis and trams, and on the scantily clad beaches of Copacabana and Ipanema. And then spent two weeks recording on the rivers and in the wilds of the Amazon rainforest. Fulton fashioned his experiences into a tropical adventure as Jack Flanders treks through the Amazonian jungles in search of a Lost City, and a strange, elusive Crystal Skull.
These are the original Master mixes.

Place a Bid
You can place a bid for the "Dreams of Rio" Masters here.
The auction will end on Monday, March 20th at 5:00 p.m. EST. Your bid will help ZBS Foundation to continue on.